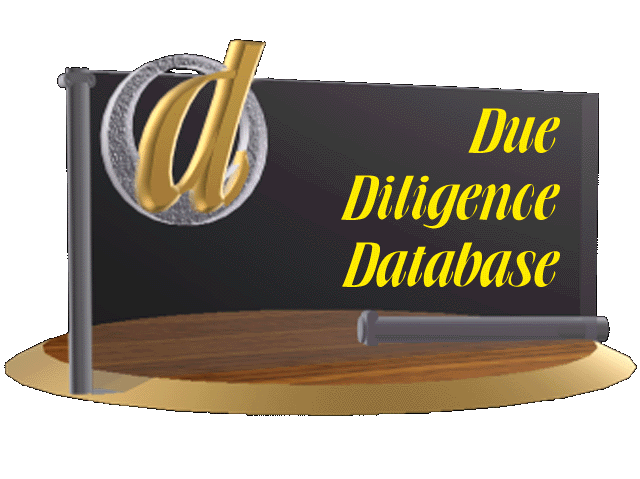 PROJECT TIMELINE



1995            1996
Oct.  Nov. Dec. Jan. Feb. Mar. April. 
|     |    |    |    |    |    |    |
-------------------------------------
      |    Due Diligence    |

           (11/1-3/20)   



---
One of the primary due diligence tasks involved in performing an asset sale is processing loan and property data in an accurate and timely manner. Such data has several uses:
prospective bidders use it to determine what, in their opinion, is a fair and competitive bid price;
BPO providers use it to locate properties, as well as familiarize themselves with a property's attributes, and other information helpful before and during a drive-by;
loan analysts use it to determine loan values; and
others use the information to perform such functions as marketing and stratification.
It is important to construct a system which stores information in a central location and allows it to be presented in an organized and easily accessible format. This system must also provide design flexibility, as well as controls to ensure not only completeness, but accuracy. With these needs in mind, the due diligence contractor licenses a central database, known as the mortgage analysis professional ("MAP").
MAP includes data fields that are populated by data extracted from the collateral and servicing files, and downloaded from HUD (EDS servicing system). MAP also produces the short form file abstract (see Exhibit 3-A), which is produced for each loan for review by investors.
The due diligence team enters data into MAP using data entry screens directly from the loan files using a laptop or other computer. This direct entry method is deemed more efficient than having the due diligence professional prepare a written form which is then entered by a data entry person.
Prior to conducting the asset file reviews, all due diligence staff receive a one-day training session covering topics such as:
HUD/FHA background
Loan characteristics such as forbearance agreements
Use of MAP software
Loan file tracking
Quality control reviews
Administrative matters such as time reporting and working hours
Informal training is continued throughout the due diligence process.
As indicated above, MAP is used as the database for the single family sales and is a networked personal computer database system. Its purpose is primarily to support due diligence engagements with a singular data repository for all information required to be maintained in electronic format. The system has been tailored to support HUD/FHA loan file information. MAP is a FOXPRO-based software system and operates under Microsoft Windows.
Data elements of the system directly relate to note, borrower, and property information. Fields also exist to capture BPO information, note and mortgage/deed modifications, as well as other similar ancillary information.
In setting up the due diligence facility, CT personnel construct the LAN and install computers and software. These machines are configured identically, with MAP and printing services being the primary applications.
A separate computer is set up for the on-site database analyst. This machine is configured for support when running ad hoc queries, and as a communications "host" for remote access. The computer hardware and software include the following:
Computer Hardware:
35-40 Microsoft Windows Compatible Computers
35-40 Network Interface Cards
1 File Server
1 Tape Backup
2 Networked Laser Printer.
1 14,400 BPS Modem
1 Quad Speed CD-ROM
Computer Network and Operating Systems:
1 Novell Netware 3.11 Local Area Networking (LAN) Software (40 users)
1 ArcServe 5.0 Tape backup Software
35-40 MS-DOS 6.22
Ethernet Topology
Computer Software:
35-40 Microsoft Windows
5 FOXPRO 2.6 for Windows
30 Mortgage Analysis Professional©
EDS maintains the FHA Single Family Servicing System ("SFMNS"). This system is used by FHA personnel for servicing the loans and reflects current balance information. The SFMNS system data contains financial information and key dates related to the loan. The data in this system is both fixed and dynamic. The "fixed" portion contains property information, borrower information, and key dates; the dynamic portion contains loan balance, payment history, and like financial information.
Information from SFMNS is provided to the CT by EDS in a flat text file for all loans identified for the sale. The data is provided on CD-ROM due to the size of the file. Data field structure, programming, and other logistics involved in the orderly transfer of information are developed through a series of meetings between the CT, MIAS, and EDS. Cut-off dates should be determined well in advance to allow for a timely receipt of the data from EDS.
All relevant data is uploaded from EDS electronically. Once completed, the data provides a pool of basic information for each loan and a basis for clarification and validation of file abstract data.
Several quality controls have been developed to ensure data integrity and to document when and by whom such data was recorded.
Step #1 - Initial Data Entry
Approximately 27 junior due diligence personnel input data from the mortgage loan documents and the servicing files into the single family due diligence database. The junior due diligence personnel are selected based on their experience in single family loan underwriting or servicing or prior single family due diligence experience.
Step #2 - Initial Quality Control
Approximately six senior due diligence personnel supervise and review the 27 junior due diligence personnel (approximately four junior personnel are assigned to each senior). Initial quality control should be implemented as follows:
The six due diligence teams are assigned loans organized according to field office. The teams develop expertise regarding any issues arising at the state level.
The mortgage loan documents and servicing files entered into the system by the junior due diligence personnel are reviewed completely by the senior due diligence personnel to identify any errors and to make the necessary adjustments.
After the first 5,000 loans, the remaining loans should be reviewed on a spot-check basis based on the information gleaned from the review of the first 5,000.
Step #3 - Second-Level Quality Control
After all data is in the system, the due diligence contractor managers review frequency/exception reports on information culled from the single family due diligence database. The reports are designed to find errors in the data fields such as forbearance dates, coupon, principal and interest and unpaid principal balance. The reports are divided according to due diligence team, providing an additional check on the field report data and on the accuracy of the due diligence staff work.
Step #4 - Third-Level Quality Control
The final step in the quality control process is the creation of sanity check reports. Examples of sanity checks include looking for coupons below five percent or greater than twenty, original loan amounts or UPBs less than $10,000 or greater than $150,000, remaining terms to maturity less than one month or greater than 360 months, etc.
Additional electronic uploads are performed prior to preparation of the final bid package and once again as of the final cut-off date. Prospective bidders who execute a confidentiality agreement are provided with all updated information.
7. MORTGAGE LOAN INFORMATION DISKETTE
The Mortgage Loan Information Diskette contains pertinent data extracted from the MAP database and from EDS and is provided to potential investors as part of the Bid Package (Exhibit 3-B lists the fields and descriptions included on the diskette).
The data is contained in a .DBF file which is accessible by FOXPRO, Microsoft ACCESS, and other database software. Due to the size of the file, it is compressed using PKZIP software. Investors are provided instructions for using the diskettes and a copy of PKUNZIP for expanding the file. The file also contains a disclaimer memo and a contact person to call in the event of problems uploading the file.
For the FHA Single Family Mortgage Loan Sale #2, investors were given the opportunity to purchase a set of three CD-ROM's for $500. This CD-ROM package, along with the mortgage loan information diskette, enables investors to perform much of their portfolio analysis in their own offices rather than requiring the additional expense and time to visit the investor war room in Washington, DC (see #9 below). The CD-ROM package includes:
Broker's price opinions for all properties in the sale
Photographs of each property
Credit reports for all borrowers
Detailed payment histories for the past 36 months
Sample loan documents
An investor war room is set up in Washington, DC for investors to review the loan file documents for each individual loan. Investors are charged a fee of $500 for visiting the war room, and reservations are made on a first come/first served basis. FHA reserves the right to limit the time and number of people from any one investor group. The facility remains open from 8:00 a.m. to 8:00 p.m. Monday through Friday and 8:00 a.m. to 4:00 p.m. on Saturdays for a five-week period.
Documents are reviewed by accessing the electronic database of the loan file images. BPOs, credit reports, payment histories, and the MAP database are also accessible through the workstations, allowing investors to quickly review any loan without relying on a member of the due diligence staff. Any file may be reviewed simultaneously by more than one investor. Nothing is removed from a file prior the investor's review. A total of 75 workstations are established for investors to use; 20 percent have color monitors.
For an additional one time, non-refundable $500 fee, potential bidders can also review a limited number of mortgage loans by accessing the database via modem.
.
| | |
| --- | --- |
| Week 1: | Obtain initial HUD data upload |
| Week 3: | Begin abstract of loan files into MAP database and preparation of asset review files |
| Week 14: | Prepare mortgage loan information diskette for inclusion in bid package |
| Week 15: | Prepare CD-ROM package for purchase by investors |
| Week 16: | Open investors' war room |
| Week 20: | Close investors' war room at end of week |
---
EXHIBITS
Exhibit 3-A. "MAP" - Short Form File Abstract
Exhibit 3-B. Data Fields for Mortgage Loan Information Diskette

---














---